7/26. 9a-noon. Beetle fighting tournament at Takasago shrine. 20 minite walk from Suminoe station.
7/30. 8-8:40p. Shirahama beach fireworks.
7/29. Maizuru fireworks, in the far northern part of Kyoto prefecture.
7/22. Osaka Station. Kinosaki-spa.gr.jp. Miss Yukata Contest.
7/29. 4p-9p. Moriyama Summer Festival.
7/13-20. 5p-10p. Kobe,Sammomiya Gion Festival. Gion Shrine.
7/1- Ice lanterns will be in display at Nara's Himuro Shrine. This event happens on the first night of each month. Near Kintetsu Nara Station.
7/2. 10:30a-9pm. Tatsuta Shrine handheld fireworks show. Near JR Sango (near Oji) station in Nara Prefecture. Fireworks start at 9pm.
6/30-7/2. 10a-4p. Kyoto Pulse Plaza Antique Fair.
6/30-7/3. Aizen Matsuri. Near Shitennoji-Mae Yuhigaoka station.
7/1-7/2 to about 4:30pm. Tsurumi-Ryokuchi Park Cosplay Day.
7/1, 7/9. 11a-4p. Farmers Market. Small Farmers Marche near Karasume Oike station in Kyoto.
7/1-7/2. "Reptiles Fever" exhibit at ATC.
Tanabata- The Star Festival 7/7
Amanogawa- River lit by LED balls near Temmabashi station
Shitennoji Tanabata tunnel. Near Shitennoji Yuhigaoka-mae station. 7/6-7/8.
Hatamoto Shrine Tanabata. Near Tsuda station.
Tezutsu- handheld fireworks. Fireworks at 7p but thr festival starts at 4:30/. Near Konan station.
Umeda City Tanabata. Tanabata decorations at Umeda Sky Building until 8/8.
Hoshiai (Star Lovers) matsuri at Osaka Tenmangu. Lights and music at the shrine. Near the Ananogawa LED location.
Shiramine Jingu Shrine Tanabata Festival- kemari (a ball kicking game) played at 3pm. A group dance will be performed at 4pm. Horikawa Imadegawa bus stop in Kyoto.
Kifune Shrine Water Festival. 10a-Noon. You will need to take a bus from Kifunguchi train station. Lanterns on display until 8pm.
Kodai-ji Tanabata. Temple light-up until 9:30p. Bamboo tree decorations.
7/8-7/9. 10a-5p. [6th Annual] Namba Japanese Sword Fair.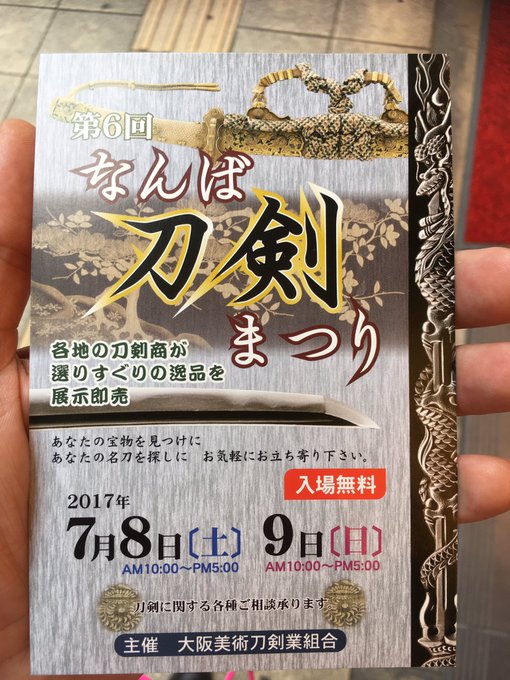 7/8-8/28. 9:30-4:30p. Sumo and Japanese Swords exhibit at the Osaka History Museum. Near Tanimachi-4chome station. ,
7/11-7/12. 9a-11p. Ikutama Shrine Festival.
7/11-7/14. Kumata Shrine Summer Festival. A great place to see danjiri in Osaka. Near Hirano station. The main parade of danjiri will be on the 13th at 7pm.
7/13. 6:30p. Namba Yasaka Shrine to Dotombori river boat ride.
7/14. Nachi Ogi. Torches paraded to the famous waterfall in Wakayama prefecture.
7/14-8/16. Fun Fan Festa. The 5th floor of Osaka Station City.
7/15-17. Sea Shrine Summer Festival near Tarumi station. 7/16. 10a. Matsuno-o Onda Festival. Rice planting girls are paraded around the shrine on men's shoulders.
7/16-7/17. 10a-8p. Kobe Love Port Minato Matsuri in Meriken Park.
7/17. Summer Featival at Ofusa Kanon Temple. The temple will also have a wind chime festival from 7/1-8/31. Near JR Unebi station.
7/17. 10a-3p. Himeji Port Fureai Festival.
http://www.hyogo-tourism.jp/taiken/pdfdir/event/11531.pdf
7/17 and 7/24. Gion Matsuri parades in Kyoto. 7/17 is the main event.
7/22- Cerezo Osaka soccer game against the Urawa Reds at Nagai stadium (near Nagai Station) at 7pm.
7/22- Shigaraki Fire Festival. Festival from 7pm. Fireworks at 9pm.
7/22- Mino Waterfall Candle Road 7p-9p.
7/22-23. 1pm-8pm. Umeda Yukata Matsuri at Grand Front next to Osaka Station. Look for tourism department surveyers who like to give out gifts to foreigners.
7/22-7/23. Motomiya and Yoimiya Festival. Hundreds of candles will decorate the hugely popular Fushi Inari shrine in Kyoto. Ceremoies will be 6pm on the 22nd and 9am on the 23rd.
7/22-7/30. 5:30p-9p. Mitarashi at Shimogamo Shrine. Walk through a stream at this shrine to offer prayer candles. Near Demachiyanagi station in Kyoto.
7/24. 4pm-10pm. 7/25. 12:30-10pm. Daigakku Festival at Tamane Shrine near Tamade train station. In this festival an array of lanterns resembling the mast of a sailboat is paraded around the park near the shrine.
7/24-7/25. Noon-8pm. Gochizan Rengenji Cucumber Purification Ritual. People write their names and ages on a cucumber then rub the cucumber over their bodies and bury it in the ground; this is done to ward off illness.
7/25. 9a-3p. Anraku-ji Temple Shishigatani Pumpkin Service. Cooked pumpkin is served to ward off illness (500 yen for entry and the pumpkin).
7/25. 9a-3p. Shinnyo-do Temple will display the contents of their treasury and serve tea (500 yen for admission and tea).
7/24-25. Wakayama Tenjin Matsuri.
7/25- Tenjin Matsuri. Osaka's largest festival. Parades and fireworks.
7/28. 7pm-?. Tanukidani Fudo-in Temple. Hi-watari fire-walking ritual.
7/29. 10a-9:30p. Amanogawa Tanabata Matsuri. Near Kisaichi station. Light up after 7pm.
7/29. 7:30-8:45p. Himeji Port fireworks.
7/29. 7:40pm. Kishiwada Port Festival Fireworks.
7/29-30. Kokawa Matsuri
http://www.pref.wakayama.lg.jp/prefg/000200/photomuseum/058.html
7/30-8/1. Sumiyoshi Matsuri. August first there will be a parade in which the portable shrine is carried to the river for special cleansing ceremony. The shrine will have a summer festival from July 30th.
July 31. 1-9:30p. Sakai Fish Auction. Main event at 7pm. Check the website at yoich.com
7/31. 10a-7:30p. Anpara Matsuri. There will be fireworks after 7:30pm. Near Miwa station.
7/31. 9pm. Atago Shrine Sennichi Mairi shrine visit. Prayers for fire protection, with a special fire ceremony at 9pm. Near the Kiyotaki bus stop.
Late July- Birdman Rally. Engineering students attempt to fly their contraptions over Lake Biwa in Hikone. Shuttle bus from Hikone station.
Summer (?)- Tennoji night zoo.
Ukai
- Cormorant Fishing. Leashed waterfowl and boats with fiery torches are used to catch river fish in this ancient practice.
7/1-9/23. 7-8pm. Ukai, cormorant fishing at Arashiyama.
7/1-9/30. Ukai on Nakanoshima in Uji. Near Uji station.
7/16-9/14. 9:30-9:45a. Summer Shikayose. Calling in the deer for feeding with French horn music.
8/1- Saitobi: high diving monks jump from a cliff into Lake Biwa.
8/1. 7:30pm. Hikone and Kita-Biwako Fireworks Festival. Near Hikone Station.
http://www.hikoneshi.com/jp/event/articles/c/hanabi
8/5-8/14. Nara Tokae. Candle event in Nara.
8/6-7. World Cosplay Summit in Nagoya near Sakae station and Osu Kanon.
The Pokemon anniversary is coming up, so I anticipate some sort of bonus event. So save your silver eggs; maybe you can get 4x experience!