10月
The Fall Festival season is here. This list has over 50 events for people in the Kansai area this month.
The list will be updated as more information comes in and photos of previous years' festivals are pulled from the archives.
10/1-5. Zuiki Matsuri. Harvest festival with vegetable decorations at Kitano Tenmangu shrine in Kyoto.
http://kitanotenmangu.or.jp/info/%E6%9C%AA%E5%88%86%E9%A1%9E/news_3.html
All kinds of decorations are made for the portable shrines using only food materials.
This mikoshi has a Pokemon design.
9/9-10/1. Horse Park events, such as horseback rides, carriage rides and a petting zoo at the JRA racetrack next to Yodo station.
http://www.jra.go.jp/facilities/race/kyoto/news/fureai.html
9/30-10/1. 10a-9p. Kobe Italian Fes. Food and wine event.
https://www.facebook.com/italyfes/
9/30-10/8. Gokonomiya Shrine Festival. Near Fushimi-Momoyama station. A portable shrine is paraded through the Fushimi Otesuji shopping arcade near Fushimi-momoyama station in Kyoto.
10/1. 10:30a-6:30p. Nanko de la Soul. Outdoor music festival, flea market and bar party. 1000 yen for entry and one drink. At Nanko Sankaku Park a long walk from Port Town Higashi.
10/1. 11a-5p. Nada GoGo! A festival of food and drink held by the Nadadgogo Sake Brewers Association will be held at Higashi-Yuenchi park near Kobe's Sannomiya station.
10/1. Himuro Shrine ice lanterns one the first of every month. Near Kintetsu Nara station.
https://kansaiculture.blogspot.jp/2017/07/himuro-shrine-emperors-ice-house.html
10/1. 9:30a-2p. Southern Minami [motor]Bike Travel Festival. There will be drummers, food stalls, bike vendors, giveaway items and a janken tournament. South of Tamaru station near Ise in Mie Prefecture, very remote unless you have a motorbike and are interested in traveling.
http://minamimie-bike.jp
10/1. 1p~. Hotarumachi Jazz Live. Jazz performances near ShinFukushima station near the riverfront in Osaka.
http://jazzline.jp/%E3%81%BB%E3%81%9F%E3%82%8B%E3%81%BE%E3%81%A1jazz-live/
10/1- TELL phone counselor training program.
TELLjp.com
10/3. The boxy model of train that runs on the Osaka Loop Line, Type 103, will be making its last run. Expect to see a lot of train fanatics on the platforms taking photos.
10/3. Kashiwara Jingu Fall Festival. Near Kashiwara Jingu Mae station south of Nara.
10/3-13. Kobe Tourists Week.
Feel-kobe.jp
10/4. 6p-8p. Shushisai. Fall festival and moon viewing at Osaka Tenmangu shrine near Minami Morimachi station.
月見 Moon Viewing; full harvest moon on 10/4
10/4. 5p. Uneme. Sarusawa pond boat event and parade. Near Nara station.
http://www.nihon-kankou.or.jp.e.wp.hp.transer.com/detail/29201ba2210136301
10/4. 6:30.-8:30p. Moon viewing ceremonies including traditional dances by maiko.
http://www.hiranojinja.com/home/gaiyo/nentyugyoji
10/4. 4p-8:30p. Sumiyoshi Otsukimi Moon viewing performances of traditional music and dances on Taiko Bashi bridge.
10/4~6. Moon viewing on the pond at Daikakuji Temple in Kyoto, north of Arashiyama station.
10/4. Gion moon viewing at Yasaka shrine in Kyoto near Gion Shijo station.
10/4. Shimogamo shrine moon viewing. Near Demachiyanagi station in Kyoto.
10/4.
Himeji moon viewing
10/4-5. Ishiyamadera Temple moon viewing festival. Near Ishiyamadera Temple.
10/6-7. Benkei Festival. Tokei Shrine, near Kii-Tanabe station.
http://www.kishu-benkei.com/
10/7-8. 10a-6p. 中秋明月祭. Chinese Fall Moon Festival. Near Osaka Castle, Tanimachi 4 chome station, at the Naniwa Palace Site. Traditional Chinese performing arts, acrobatics, lion/dragon dances, and Japanese performing arts including Takaruka. There will be many food vendors there.
http://moon-osaka.org/
10/7. 11a-4p. Kansai Rainbow parade. A parade to show support for the LGBTQ community ar Ogimachi Park, easily accessible from Ogimachi station.
10/7. Kobe Okotoberfest on Rokko island.
http://www.rokko-island.com/event/?mode=show&seq=235
10/4, 10/7-9. Nankin Machi Fall Festival. The ChinaTown area of Kobe, near Sannomiya, will have traditional Chinese performances.
10/7-8?. Mozihachimagu shrine fall festival. Futon daiko and many food vendors. Near Nakamozu station.
http://www.mozu8.com/
10/7-9. India Mela festival at Meriken Park near Sannomiya station in Kobe. There will be stage shows, food stalls and vendors celebrating Indian culture.
https://www.india-mela.com/
India Mela 2016 stage performances.
10/7-8. After sunset. Hachimanbori Festival. Candles will be placed along the canals. Near Omi Havhiman station in Shiga prefecture.
10/6-8. Semba Center Festival. A shopping center near Honmachi station will have some special events.
https://www.eventscramble.jp/e/semba-matsuri/
10/7, 10/22. People Together for Mt. Ogura volunteer group bamboo forest mainenance. Near Arashiyama station.
10/7-8. Akashi Castle Festival.
http://www.hyogo-park.or.jp/akashi/contents/gyouji/index.html
10/7-9. 10a-4p. Osaka Sword Fair. Near Nakamozu station.
http://www.giheiya.com/info/info_sokubaikai_tenjikai.html
10/7-8 (second weekend in October). Kasuga Shrine in Kyoto will have a fall festival in which they parade a portable shrine.
http://www.kasuga.or.jp/annual-event/kasugamatsuri/
10/7-8. Kaizuka city Danjiri Festival.
10/7,8,9,15. Awata Shrine will have various festivals with parades and traditional performances.
10/1,8-9. From about 4p-9p.
Yagura festival near Hannan station.
Yagura in Hannan city. Yagura were oxcarts.
They work like a two-wheel version of a danjiri but with wild pivoting and seesawing.
10/1,7-8.
8a-10p.
Kishiwada October danjiri parade.
10/7-8. At night the streets will be illuminated with candles for this event near Hachiman station in Shiga prefecture.
10/7-8 (first weekend of October). Kasuga Shrine. South of Izumi Chuo station.
http://kasugajinja.web.fc2.com/
10/8. 10a-1p. Hirawa festival near Imazato. At the park near the intersection of Katsuyama Dori and Imazato Suji.
10/8 (second Sunday in October). Kaminara zuiki-mikoshi. A portable shrine is decorated with vegetables (similar to the Kitano-Tenmangu zuiki matsuri).
http://www.pref.kyoto.jp/gyoji/y03.html
10/8. Narazakacho Shrine Okinamai performance. Traditional dance by performers in an old man mask. Near Narayama station or north of Todaiji Temple.
http://www.kansaimatsuri.com/en/matsuri/1162/
10/8.
Radio Kansai Matsuri. Near Live outdoor stage performances in Kobe at Meriken Park.
10/8. Sugawara Tenmagu Fall Festival. A mikoshi is carried from the shrine south of Yamato-Saidaiji station.
http://www.sugawaratenmangu.com/
10/8. 11a-4p. Osaka International House. International culture event on the second floor. Near Uehonmachi station.
10/8. Mensore Festival. Okinawan style dance event near Shin-Nagata station in Kobe.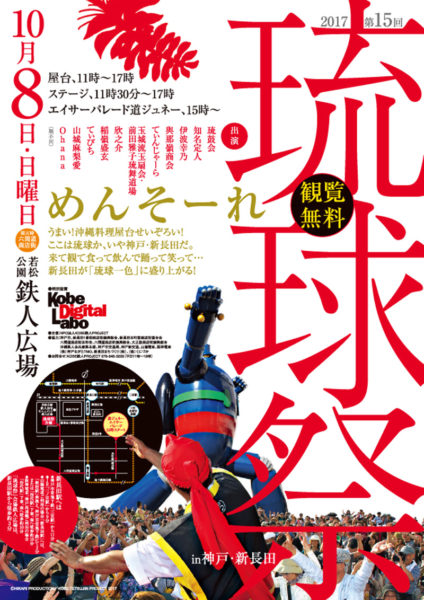 10/8. Kogawa Matsuri. Portable shrines will be carried through Higashi Yoshino Yoshino village. Near Kintetsu Yoshino station.
http://www.niukawakami-jinja.jp/event.html?PHPSESSID=971787bc6c9e723d9244dcdb8266510c
10/7-9. Maibara Hikiyama Matsuri. Near Maibara sta.
http://www.biwa.ne.jp/~hozonkai/index.htm
10/7-9. 11:30a-3p. Shika no tsume kiri. The deer of Nara park will be corralled and have their antlers cut. A seat in the antler cutting area will cost 1000 yen. Professional will wrestle the deer to the ground to saw of their antlers. Deer antlers naturally fall off every year after of the breeding season, but this practice ensures that the deer do not become aggressive and hurt people.
https://iamnara.wordpress.com/2011/10/14/deer-antler-cutting-shika-no-tsunokiri/
http://naradeer.com/common/img/events/tsunokirieigo.pdf
10/7-9, 10/14-15. Kansai Ramen Derby. A gathering of ramen restaurants at the Kyoto racetrack next to Yodo station. The event is split into two "races"- race one starts on the ninth and race two starts on the fourteenth. Famous ramen shops, including Junk Story from Osaka, will offer food there and various PR performances. It costs 200 yen to enter the racetrack and a ticket to the ramen event will cost 850 yen.
http://ramen-derby.com/
10/7-10, 13-16. 10a-6p. Culinary Festival at Banpaku Expo Park.
http://manpaku.jp/osaka2017/
10/8. Kyoto Intercollegiate Festa. Team dancing and a fashion show at this event held in front of Heian Jingu in Kyoto.
http://www.kyoto-gakuseisaiten.com/
10/8. 7p. Shamenchi Odori. Akimoto Shrine, north of Mt. Hiei in Kyoto (near the Furusatomae bus stop) will have a parade of young boys carrying lanterns.
http://shamenchi.net/
10/8. Otsu matsuri. Yamahoko floats to paraded around the city. Near Otsu station.
http://www.otsu-matsuri.jp/festival/
A yama-hoko floar is pulled through the streets. These are similar to the floats used in Kyoto's Aoi Matsuri.
Note the unique tapestries on each one.
10/8-9. Katsuragi Mitoshi Shrine Fall Festival. Parade of lanterns near Yoshinoguchi station.
http://www.mitoshijinja.jp/
10/8. 9a-9p. Hirakata futon daiko. 10a-11a there will be a parade of drum floats near Hirakata station.
10/9. 10a-5p. Kitchenware Street Festival (Doguya-suji Matsuri). Near Namba station.
http://www.doguyasuji.or.jp/
10/9. 11:30a. Rokujou Yabusame.(second Sunday in October). Yabusame, horseback archery, at Tenmangu shrine near Minotani station.
http://rokujouhachimanguu.server-shared.com/
10/9. 10a-8p. Osaka Meccha Happi Matsuri. Team dancing event. Will be held at Osakajo-Hall this year.
http://mechahappi.com/
10/9-11. Tsu Festival. Parade
http://www.japanguides.net/mie/festivals-in-mie-prefecture-mie-ken.html
10/9. Ikune shrine kids festival. Small shrine a short walk from Sumiyoshi shrine. A very small local event.
http://ikune.a.la9.jp/event/index.html
10/10-11. Wakaekagami Shrine Fall Festival. Near WakaeIwata station.
http://wakaekagami.jp/
10/10. Antique book fair at Osaka Tenmangu shrine. Near Temma station.
10/12 (2nd Sunday in October). Noon. Nakizumo. Crying baby sumo ceremony near at Yamajioji Shrine in Kainan city a long bus ride from Kamogo station.
10/13-14. Naniwa Riverside Yoochi. 5-9p. Minato Riverside Place near Namba station.
10/13-14. 11a~. Sone Autumn Festival. Traditional festiva celebrating the connection to China. Near Sone station just north of Osaka.
http://tenmangu.net/matsuri/matsuri.htm
10/13-14?. History of the 3 Kingdoms. Near Shina Nagata station in Kobe. Event to celebrate the manga "
Sangou Zhi
."
10/13-22. Nijo Castle Light-up.
10/14. Ura Namba Culture Festival. Music, magic, comedians food and more in the small side streets in Namba.
10/14.6:30p-7:30p. Hyakki Yagyo- Parade of 100 Demons. Taisho-gun shopping street, north of Emmachi station.
http://kyoto-taisyogun.com/
10/14-15. The Ancient Captial Asuka Culture Festival.
https://asukamura.com/?p=9793
10/14-15. Hiraoka shrine festival. Food stalls and parade floats on a very narrow street.
10/14-15. Katano Shrine Fall Festival. Near Makino station. Portable shrines and kids games.
https://www.facebook.com/katanojinja/
10/14-15. 10a~. Sakai Festival.
http://sakai-tcb.or.jp/s-matsuri/
10/14. 9:30-8p.10/15 -15. Senshu Yosakoi Eejanaika Festival. Team dance event at Rinku park near RinkuTown station.
10/14-15. 6p-9p. Night of 8000 bamboo lights around Wakayama Castle.
http://taketouya.jp/
10/14-15. Otsu Jazz Fest. Near Otsu and Hama-Otsu stations.
http://otsu-jazz.jp/
10/14-15 every year. Nada Kenka fighting mikoshi festival. Near Himeji station.
http://www.geocities.jp/nadakenkamatsuri/
10/14-15. Hiraoka shrine fall festival.
http://www.hiraoka-jinja.org/special/shugosai.html
10/15. Combat archery at the Yodogawa riverside park in Hirakata. 1,500 yen to participate.
10/15. 2p. Free screening of the film "The Makioka Sisters" about life in pre-war Osaka. The screening will be at the International House near Uehomachi station.
http://www.ih-osaka.or.jp/international/29eigo-eiga.pdf
10/15. 11a-3:30p. ShinMori Matsuri. Community activities at Shin Mori Central Park near MoriShoji station. Events include stage shows with Eisa (Okinawan drummers), yosakoi (team dances), flute players and cosplayers. There will also be a flea market. A small danjiri parade will be held near Morishoji station.
10/15. 9:30a-3:30p. Family Rail Fair. Near Neyagawa station
http://www.okeihan.net/

railfair/
10/15. 10:30a-4p. Tennoji Station Commemoration. There will be a railroad themed event at Tennoji Park (across the street from the major train station). exoect to see various train company mascots.
https://abeno.keizai.biz/headline/2658/
10/15. 11a-4p. Chuo kumin matsuri. Community festival at the Naniwa palace ruins site.
10/15. 2p. Shigisan Temple parade of the 28 deities.
http://www.sigisan.or.jp/schedule-cms/event/period/2017/10
10/15-16. 4p-7p. Fall Festival for a small shrine near Tsuruhashi.
10/15-16. Tengu festival at Saikoji Temple.
10/16-17. Goryu shrine fall festival. Musical performances, food stalls and lanterns.
10/17. 10a~about 2pm. Sumiyoshi shrine sumo tournament for high school students.
http://www.sumiyoshitaisha.net/calender/no10.html
High school sumo competition at Sumiyoshi Taisha in Osaka. 2016.
10/21. 2:30p-9p. Takenouchi Kaido bamboo lamp road near Kamino Taishi, a shuttle bus will be available.
10/21. 11a-3p. Midosuji Line Festival. Simple carnival games near Nagahori Shinsaibashi exit B1 elevator hallway.
10/21-22. 10a-9:30p. Hirakata くるわんかーにぼる. Water fountain light show at Hirakata's Yodogawa Riverside Park.
http://www.city.hirakata.osaka.jp/vod/0000014466.html
10/21 (6:30p~)-22(~4:30p). Ishikiri Shrine Fall Festival. Near Kintetsu Ishikiri station.
http://www.ishikiri.or.jp/gyouji/detail/55/
10/21-22. Uji tea festival. The town of Uji, just south of Kyoto is famous for the green tea that has been grown there for centuries.
http://ochahaku.kyoto/event/mainevent.php?eid=71
10/21-22.
Hikone mascot festival. About 150 mascot character (yuru kyara) are expected to attend.
h
ttp://gotouchi-chara.jp/hikone2017/
10/22. 9:30a-5p. Craft Park Festa. Hirano ward office building.
10/22. Enjoy Enduro 2017. Motorcross bike race.
http://www.tmmr-mx.com/event/ejed.htm
10/22. 12p-2:20p. Jidai matsuri in Kyoto. The parade route moves from the imperial palace to Heian Jingu.
http://www.jnto.go.jp/eng/spot/festival/jidai.html
Jidai matsuri parade leaving the Imperial Palace in 2015.
10/22. 6-8p. Kuramadera fire festival in Kyoto. Be sure to get to Demachiyanagi station early so you can transfer onto the tiny, crowded train for Kurama station..
http://www.kuramadera.or.jp/gyouji.html
10/22. International Day at the Osaka Catholic Church. Near Tamatsukuri station.
http://www.osaka.catholic.jp/c_yotei.html
10/22. 9:30a-3:30p. Fall Recycle Market at Maiko Park near Kobe.
10/22. 9:30-5p. Craft Park Fest
10/22. Ikuno Festival near Minami Tatsumi Station at Tatsumi Park. Community parade, a flea market and kids games.
10/23-25. Kameoka festival, in Kyoto prefecture.
http://www.nihon-kankou.or.jp.e.wp.hp.transer.com/detail/26206ba2210124873
10/20-22. Ueno Tenjin fall festival. Near Hirokoji station.
http://igakanko.net/index.php?%E4%B8%8A%E9%87%8E%E5%A4%A9%E7%A5%9E%E7%A5%AD
10/24. 1p~8p. Fall festival at Omiwa Shrine near Miwa station, in Nara prefecture.
http://oomiwa.or.jp/omatsuri/nenkan/#linktop
10/25. 3p. Yabusame at Osaka Tenmangu.
https://www.osaka-info.jp/en/events/festivals_events/yabusame_shinji_retual.html
10/27-29. 10a-4p. Kyoto Antique Fair at Kyoto Pulse Plaza.
10/28-29. 10a-3p. Kyoto Bread Festival at Kamigamo Shrine.
10/29. 11a-5p. History of the Three Kingdoms. Celebrating the manga "Sangui Zhi" near Shin Nagata station in Kobe.
10/29. 10:45a-4p. Momodani Festival- 13th annual. Earthquake simulator, blood drive, pro wrestling food stalls and local goods. At the schoolyard of Momoda
10/29. 10:30a-4:30p. KoreaTown Matsuri. Including a parade at 11am. Near Tsuruhashi or Momodani station.
Halloween
Missing Matsuri
; these events have been held in October in the past but I have no news of them this year or they have been moved to a different month: